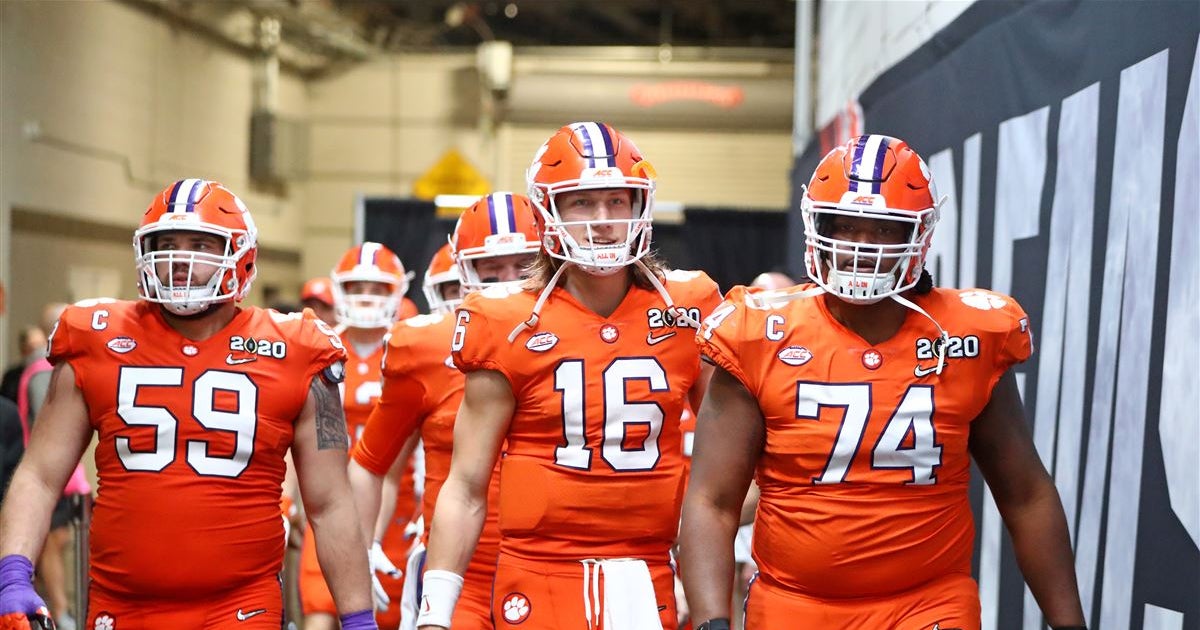 ByGarrett Stepien May 5, 7:10 AM
Another football season in the ACC saw Clemson run through the conference once more for the 2019 title, with the Tigers asserting league dominance and reaching the College Football Playoff national championship game. One glance at what Clemson returns and it's easy to see why the Tigers are the projected No. 1 team in all of college football  the 2020 season, per ESPN's Football Power Index.
The FPI is described by ESPN as the "measure of team strength that is meant to be the best predictor of a team's performance going forward for the rest of the season. FPI represents how many points above or below average a team is. Projected results are based on 10,000 simulations of the rest of the season using FPI, results to date, and the remaining schedule. Ratings and projections update daily."
Spring football was limited, but given what we know from the 2019 season and the events that followed to shape the depth charts over the subsequent months, how does the ACC project for the fall? Using ESPN's FPI, here are the updated ACC football power rankings, listed from 14th to first.
(Photo: Rob Kinnan, USA TODAY Sports)
14.) Syracuse (5-7, 2-6) — After consecutive 4-8 (2-6) seasons into head coach Dino Babers' 2016-17 start, the Orange broke through with the 2018 campaign's 10-3 (6-2) mark but fell back down to earth in 2019. Syracuse went 5-7 (2-6) and returns with a -4.2 FPI, ranking No. 88 overall and last in the ACC. Babers' team has a win-loss projection of 4.6-7.4, with a 25.8-percent chance to reach six victories.
13.) NC State (4-8, 1-7) — Dave Doeren is 47-42 (21-35) through seven seasons at NC State, with the team's 2019 campaign ending in a 4-8 (1-7) disappointment. Doeren's squad sports a -1.5 FPI, ranking No. 77 overall and having a win-loss projection of 5.3-6.7. The Wolfpack are presented with a 45-percent chance to win six games.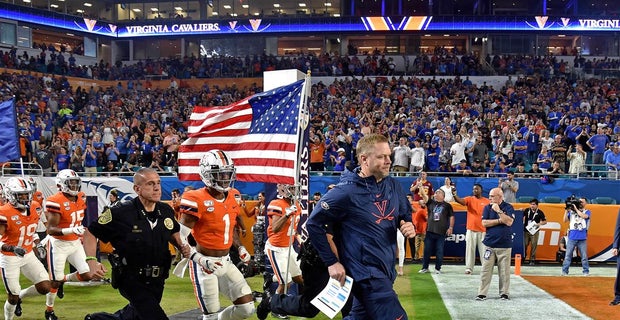 (Photo: Steve Mitchell, USA TODAY Sports)
12.) Virginia (9-5, 6-2) — After the Cavaliers won the Coastal Division and reached the Orange Bowl in 2019, pushing Florida to the brink before the 36-28 loss against the Gators, ESPN's FPI isn't a fan of Bronco Mendenhall's team this time around. Looking to replace dynamic dual-threat quarterback Bryce Perkins, Virginia is given a -0.6 FPI, which in turn ranks 71st overall. UVA's win-loss projection is 5-7, with a 34.9-percent chance for six and a 0.7-percent probability to repeat as the Coastal champion.
11.) Wake Forest (8-5, 4-4) — The Demon Deacons recorded their fourth straight winning season in 2019 before they lost 27-21 to Michigan State in the Pinstripe Bowl. In the offseason, star quarterback Jamie Newman graduated and transferred to Georgia for the 2020 season. Wake Forest still has talent, highlighted by wide receiver Sage Surratt, but the FPI is currently set at 0.5 for 65th overall with a 5.3-6.7 win-loss projection. Head coach Dave Clawson's team has a 43 1/2-percent chance to reach six wins and a 0.1-percent window to capture the Atlantic crown.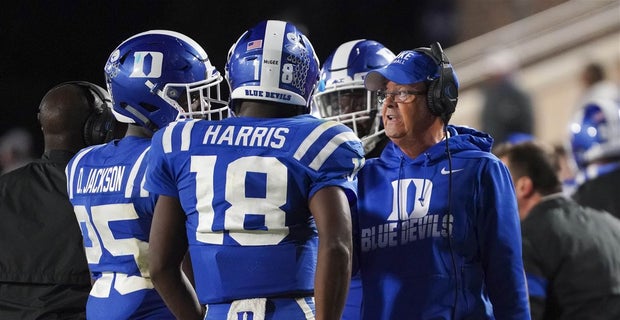 (Photo: James Guillory, USA TODAY Sports)
10.) Duke (5-7, 3-5) — Looking to get back on track after missing a bowl by one game, head coach David Cutcliffe and the Blue Devils get a potential start at quarterback in Clemson graduate transfer Chase Brice. Duke's FPI is 1.2, ranking 60th overall, expected to go 6-6 — currently projected 6.2-5.8 — with a four-percent chance for the Coastal.
9.) Pittsburgh (8-5, 4-4) — Outside of one losing season in 2017, going 5-7 (3-5), Pat Narduzzi has kept the Panthers among the Coastal's contenders annually. Pitt won the division in 2018 after going 6-2 against conference play, made a late run last year before recording Narduzzi's third 8-5 finish over five years and the team should have the same situation unfolding for 2020. The Panthers a 2.2 FPI, which ranks 56th overall, and is projected exactly to go an even 6.0-6.0. Pitt is provided with a four-percent chance to win the division.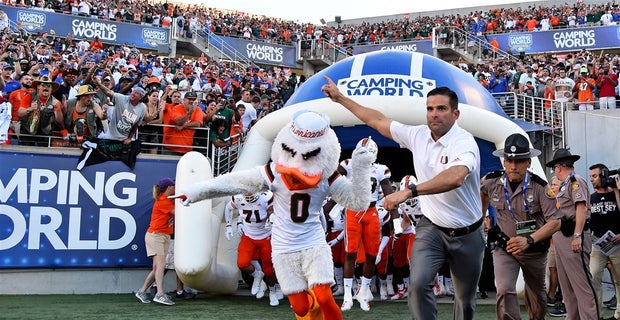 (Photo: Jasen Vinlove, USA TODAY Sports)
8.) Boston College (6-7, 4-4) — The Eagles are under the direction of new head coach Jeff Hafley after parting ways with Steve Addazio, but could Boston College surprise some people? Notre Dame transfer quarterback Phil Jurkovec is awaiting an NCAA waiver for immediate eligibility and could help dictate that. Boston College's FPI is 2.5, which ranks 54th overall, with a projected win-loss total of 5.7-6.3. Being in Clemson's division, the Eagles have a 56.2-percent chance to win six games and a 0.1-percent probability for the Atlantic.
7.) Miami (6-7, 4-4) — Manny Diaz's first year as head coach was disappointing, but the Hurricanes have retooled throughout the offseason, highlighted by Houston graduate transfer quarterback D'Eriq King. Miami has the talent, but can it put the pieces together? Its FPI is 2.9 (51st overall), followed by a 6.6-5.5 win-loss projection, with a 75.5-percent chance to reach six victories. The 'Canes have a 4.6-percent chance to beat out Clemson in the Atlantic and, as a result, a 0.2-percent probability for the conference crown.
6.) Georgia Tech (No. 50 overall)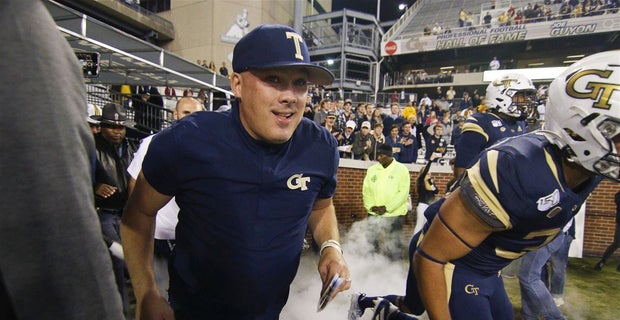 (Photo: Brett Davis, USA TODAY Sports)
247Sports' Take: Georgia Tech is headed in the right direction under second-year head coach Geoff Collins, whose massive overhaul of the Yellow Jackets' transition from a triple-option offense. After Georgia Tech went 3-9 (2-6), the Yellow Jackets have a 3.3 FPI but a 5.0-7.0 win-loss projection and 35.6-percent chance to record six victories.
"We had the second-smallest senior class in the country, the second-smallest physical roster size in America," Collins told 247Sports in April's Social Distance interview. "So there was going to be a time that we had to grow — physically, mentally, all of those things — but the only way to do it and do it right is to be positive. And so, that's what we attacked."
5.) North Carolina (No. 29 overall)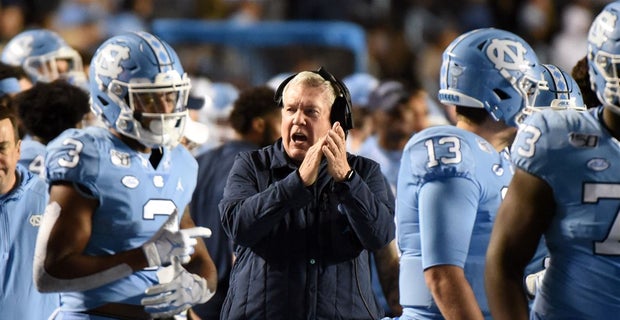 (Photo: Rob Kinnan, USA TODAY Sports)
247Sports' Take: Mack Brown is rebuilding North Carolina the right way, but the Tar Heels are making major progress while doing so. UNC went 7-6 (4-4) in 2019 and is thriving on the recruiting trail, with Brown leading the charge.
"I remember Coach Bryant telling me, 'Get you some great ones, but get you a whole lot of really good ones around those great ones or it doesn't work,'" Brown told 247Sports in April's Social Distance series. "You can have too many great ones. When (Clemson head coach) Dabo (Swinney) started his coaching we spent about four days together and he brought his entire staff out to Texas and we talked. So there are a lot of similarities in the way we do things and the way Clemson does things. It's really worked out so well for him and I'm proud of him."
North Carolina presents a huge leap from Georgia Tech one spot behind it, with its 9.5 FPI nearly tripling GT's. UNC is projected to win one more game than it did in 2019, with its 7.7-4.7 win-loss touching 8-5. The Tar Heels have a 92.4-percent chance to win six games, a 34-percent chance for a Coastal title and a 2.7 chance to win the conference.
4.) Florida State (No. 26 overall)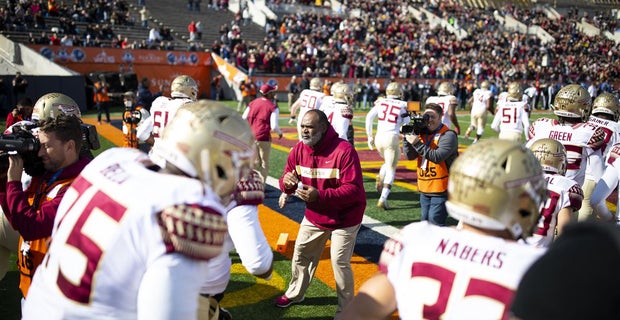 (Photo: Ivan Pierre Aguirre, USA TODAY Sports)
247Sports' Take: Florida State fired Willie Taggart midway through the 2019 and hired Mike Norvell from Memphis, and the Seminoles have the talent scattered throughout the roster to perhaps turn some heads. FSU still strung together a 6-7 (4-4) record, setting the stage for its 10.8 FPI and No. 26 overall ranking. It has a 7.6-4.4 win-loss projection with a 92.4-percent chance to hit six wins, plus a 3.1-percent window for the Atlantic and a 1.6-percent chance for the conference overall.
"I don't know if there's a football culture issues," Norvell said in April. "I think there might have been a disconnect in the overall expectations and standards and I told our guys on the very first day I walked in the building, I go 'This was going to be one of most challenging things they've ever done in their life', because we're going to have a standard of excellence in every aspect, and part of the way that I'm going to serve all players and make no bones about it, that is my number one job, to serve our student athletes, is going to be able to provide them with the structure for them to be successful in every aspect of their life. And we're going to uphold that standard of excellence in every area."
3.) Louisville (No. 20 overall)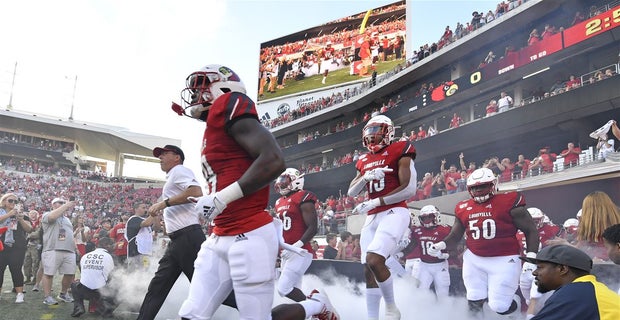 (Photo: Jamie Rhodes, USA TODAY Sports)
247Sports' Take: Scott Satterfield quietly had one of the most impressive coaching seasons in 2019, leading Louisville's 8-5 (5-3) finish behind Clemson as the Atlantic's second-ranked team. The Cardinals possess a 12.9 FPI and are on the verge of a potential 9-4 season in 2020 with an 8.4-3.7 win-loss projection. Satterfield's squad only has a 3.3-percent chance to win the Atlantic and a two-percent chance to win the conference.
"We've kind of taken that same approach for years," Satterfield said in February. "We have a good formula that we think is successful for us and this spring will be no different."
2.) Virginia Tech (No. 18 overall)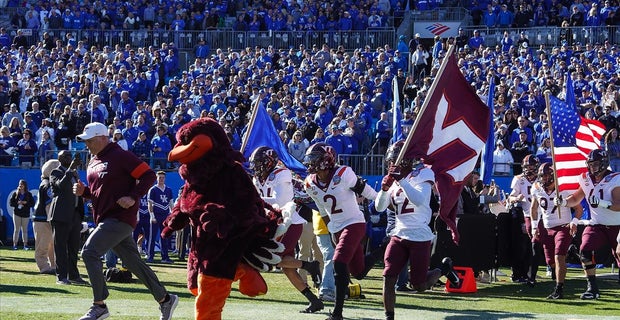 (Photo: Jim Dedmon, USA TODAY Sports)
247Sports' Take: Virginia got the best of Virginia Tech in 2019, but the Hokies have a major edge over the Cavaliers, so far as the FPI is concerned. After going 8-5 (5-3) and falling 37-30 to Kentucky in the Belk Bowl, VT returns under head coach Justin Fuente as the Coastal favorite, per the FPI. Virginia Tech's FPI is 13.0, ranking 18th overall. The Hokies have a win-loss projection of 9.1-3.4, with a 49.1-percent chance to win the division — but only a 5 1/2-percent chance to win the conference.
"I feel like I would like to win so we could springboard off of it," Fuente said in December, before the Belk Bowl, emphasizing the late-season momentum's importance. "I think our team would like to as well, and I think for us with a large number of guys coming back, the message is let's not wait until January 21st to start improving. We have this opportunity right now with many guys who will still be on this team next year, so let's not waste all this time leading up until we are coming back for the spring semester. Let's start that improvement now. That's what we have been working towards, and I've been very pleased with how we have practiced. … That's our talk that we would not be doing our team in 2019 or 2020 due service if we are going to wait to get better."
1.) Clemson (No. 1 overall)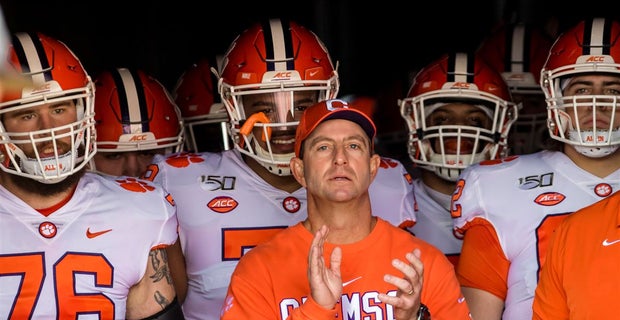 (Photo: Jeff Blake, USA TODAY Sports)
247Sports' Take: It took arguably the best team in college football history to knock off Clemson, which had its 29-game winning streak get snapped at the end of the 2019 season with the 42-25 loss against LSU. Still, Clemson returns star quarterback Trevor Lawrence among the long list of experience and talent, and head coach Dabo Swinney knows it.
"When we all get back, I think we have the chance to really be better and be more connected to family and God and got some things done that we always wanted to do," Swinney said in April. "Hopefully our culture is really going to shine through this time, because I think teams with great culture have a chance to widen the gap." 
As previously mentioned, Clemson (12-0, 8-0) is No. 1 in the ACC and the country for FPI with 32.6. Clemson's win-loss projection is set for 12.4-0.5 with a 58.8-percent chance to run the table.
Comments (3)">247Sports

Source