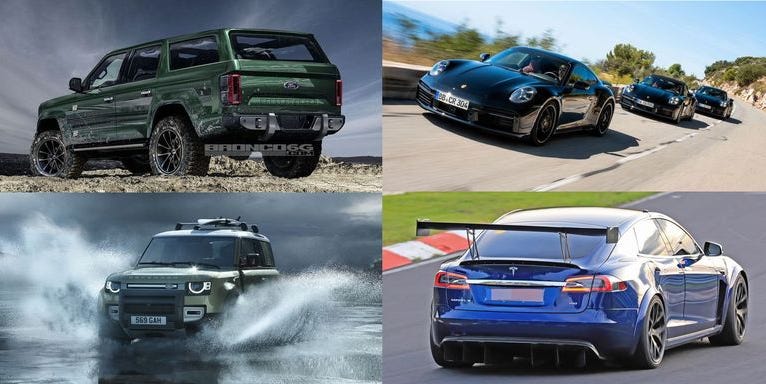 Today's Top Stories
1
The Ford Bronco Has Officially Returned
2
There's a Real-Deal Ford GT40 Mk IV Up For Sale
3
Ford Bronco Interior Details Explained
4
Jeep Reveals V-8-Powered Wrangler Rubicon 392
5
AMG GT Black Series Will Have Flat-Plane Crank V-8
Our product picks are editor-tested, expert-approved. We may earn a commission through links on our site.
Next year is going to be a good one for cars.
Nov 14, 2019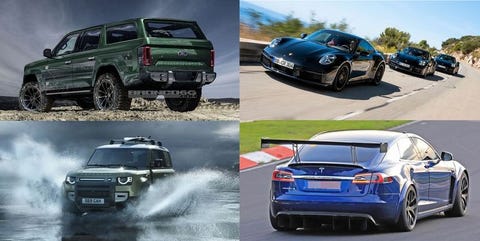 R&T
As 2019 comes to a close, we've reflected on what cars we've enjoyed this year. But we're also looking towards the future. These are the cars we're most excited to get our hands on in 2020.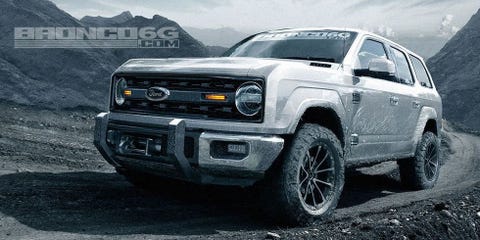 Bronco6G.com
1 of 12
Ford Bronco
Above, a rendering supplied by Bronco6G.com.
After over 20 years off the market, Ford is finally bringing back the Bronco. Promising the same squared off looks and off-road capabilities as before, it should be a worthy contender for the Jeep Wranglers of the world. We can't wait to get our hands on one.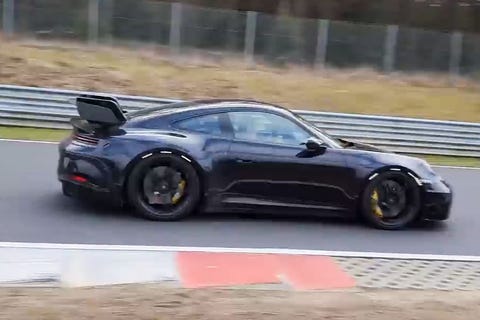 Misha CharoudinYouTube
2 of 12
Porsche 911 GT3
The new 911 Carrera and Carrera S are great, but what we're really looking forward to is the GT3. It's historically been the most engaging, track-ready variant in the 911's lineup, and judging by spy videos taken at the Nürburgring, this time around should be no different.
And good news for drivers who'd rather keep a low profile: It looks as if Porsche is bringing back the more subtle Touring model as well (though nothing's been confirmed).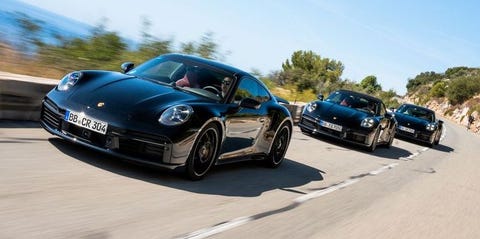 Porsche
3 of 12
Porsche 911 Turbo / Turbo S
Of course, the GT3 isn't the only new 911 trim we're looking forward to. There's also the Turbo and Turbo S. We've seen the car testing several times on the Nürburgring, and our colleagues over at Car and Driver report it should make nearly 650 horsepower.
Sounds like a fun time to us.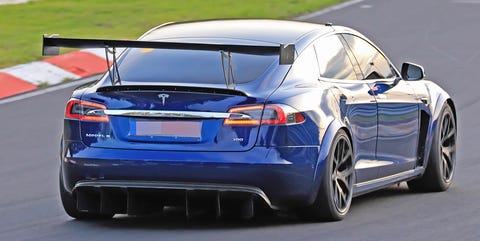 KGP Photography
4 of 12
Tesla Model S "Plaid"
Tesla decided it wanted to take the Nürburgring record for fastest production electric four-door, which is currently held by the Porsche Taycan. So it's making a "Plaid" version of its Model S sedan, with three motors, more battery capacity, and a whole lot more aero.
These spy shots show it testing on the 'Ring in different configurations. We're curious to see what the final result looks like, and even more curious how it drives. CEO Elon Musk says the car will go into production in summer 2020, so we won't have to wait long.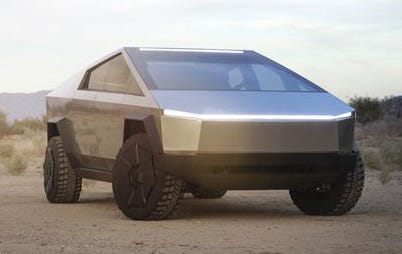 Tesla
5 of 12
Tesla Cybertruck
We like to get our hands on anything new from Tesla, and its new pickup, the Cybertruck, will be no different. If it's anywhere as enjoyable to drive as the company's other offerings, it should be a good time.
With a claimed 2.9-second 0-60 time and a range up to 500 miles, it sounds promising.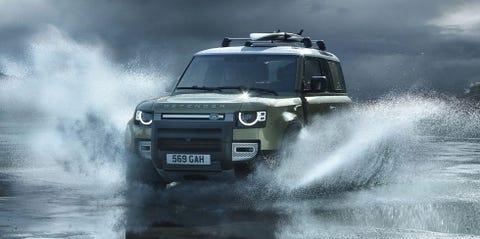 Land Rover
6 of 12
Land Rover Defender
The new Defender is one of the most important cars of 2020. It has a lot to live up to, which is why we're so curious to drive it. Polarizing looks aside, engineers seem to have taken their time with perfecting the truck's off-road prowess, though we won't know for sure until we try it out for ourselves.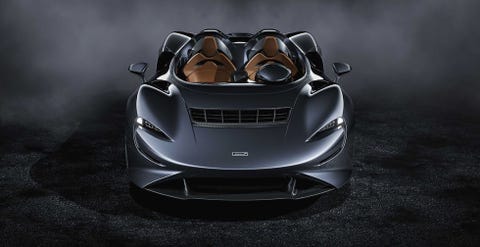 McLaren
7 of 12
McLaren Elva
McLaren introduced the Elva in mid-November as the latest car in its Ultimate lineup. It has over 800 horsepower, with no roof or windshield. The company claims its the lightest car it's ever produced, and considering all the carbon fiber used, we don't doubt it.
McLaren is only building 399 examples, each starting at $1.69 million. We'd love to get our hands on one sometime next year.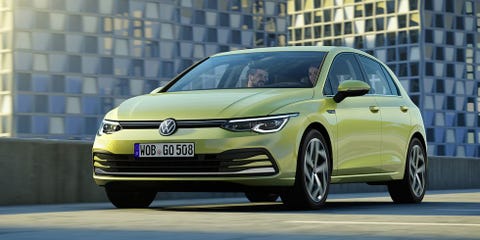 Volkswagen
8 of 12
Volkswagen GTI
Shown above, the recently-unveiled 2021 Volkswagen Golf.
Volkswagen revealed the new Mk 8 Golf earlier this year, which means a high-performance GTI model is imminent. The GTI is one of the most iconic hot hatches of all time, so obviously we'd like to get behind the wheel. If it's as good as its predecessor, we should be in for a treat.
While the normal Mk 8 likely won't come to the US, VW has already confirmed both the GTI and Golf R variants will.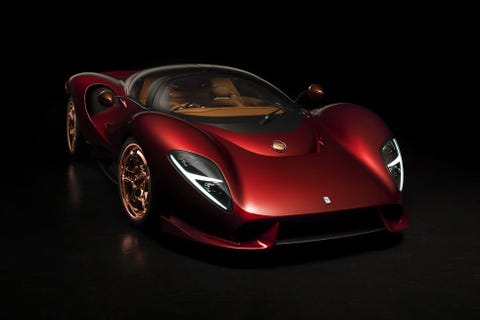 G.F. Williams
9 of 12
De Tomaso P72
After years lamenting as a dead car brand, De Tomaso is back with a bang. Its new car, the P72, is a gorgeous mid-engine exotic powered by a Roush-sourced supercharged Ford V-8 engine making over 700 horsepower.
The best part? The only transmission choice will be a six-speed manual. De Tomaso, we salute you. We hope the P72 is as nice to drive as it is to look at.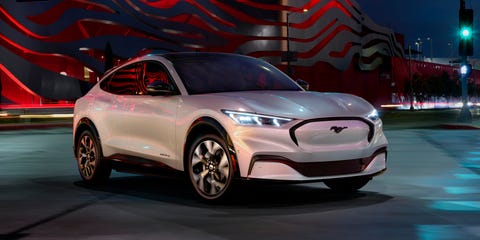 Ford
10 of 12
Ford Mustang Mach-E
Ford unveiled it's first mass-production electric car in November, and it's a crossover with a Mustang badge. The Mach-E promises some serious performance—as it should. We're curious if it can live up to its legendary nameplate.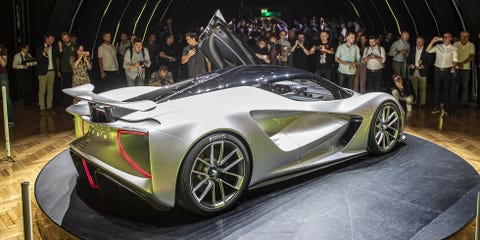 Lotus Cars
11 of 12
Lotus Evija
The last thing we expected to see from Lotus is an all-electric, all-wheel-drive hypercar, but that's exactly what the Evija is. It has some extreme aero-inspired design cues, and looks unlike any other Lotus we've ever seen.
Whether it can still deliver that pure, un-compromised Lotus driving experience has yet to be seen.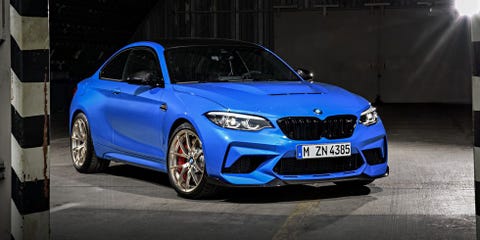 BMW
12 of 12
BMW M2 CS
After months of spy shots and Nürburgring test videos, BMW finally revealed the hardcore M2 CS in early November. Packing 444 horsepower, lightweight components, and an available manual transmission, it should be the most fun M2 yet. We can't wait to drive it.
Next
15 of the Coolest Recent Concept Cars
Advertisement – Continue Reading Below
This content is created and maintained by a third party, and imported onto this page to help users provide their email addresses. You may be able to find more information about this and similar content at piano.io
This commenting section is created and maintained by a third party, and imported onto this page. You may be able to find more information on their web site.