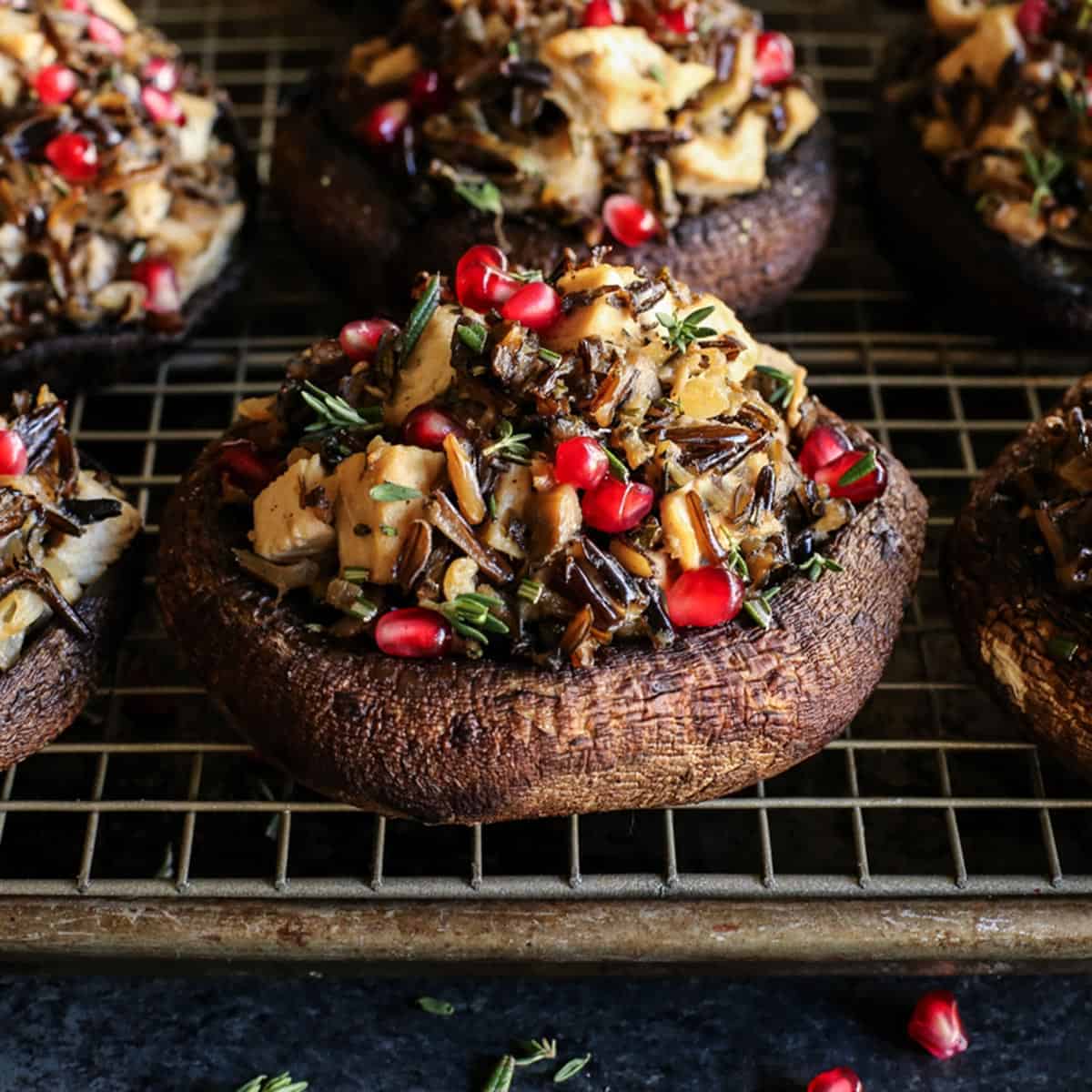 These Turkey Wild Rice Stuffed Portobello Mushrooms are all dressed up for the holidays. Giant mushroom caps are filled with a flavorful, lightly creamy mixture of wild rice and turkey. And a sprinkling of fresh herbs and shiny, ruby-red pomegranate seeds are the final festive, delicious touch!
I'm a fan of traditions. But sometimes I find big enjoyment in taking a break from what happens year in and year out. 
Like the time my entire family flew to Mexico for Thanksgiving week.
If we had been home, there would have been Thanksgiving meal prep, our kick-off to listening to Christmas tunes, maybe some Black Friday shopping, and definitely some holiday baking. But we knew the change-up would be a happy one, with SUNSHINE and warm temps and many new memories to be made together. Sometimes it's just worth it to forgo tradition. (We still enjoyed Thanksgiving turkey, by the way, only our dinner was on the beach – and we were in flip flops!)
This Turkey Wild Rice Stuffed Portobello Mushrooms recipe feels a little bit like that non-traditional Thanksgiving. It has your turkey and wild rice, commonplace on the holiday table. And it's so pretty and festive, definitely fitting for a celebration. But it's not exactly what we think of when we hear the words "Thanksgiving turkey". And I'm A-ok with that.
If you're looking for something a little different for your holiday celebration this year, I hope I have your attention. These stuffed portobello mushrooms make for a nice lighter meal that can be largely prepped ahead of time, beautiful with a fresh green salad.
And if I haven't convince you to change up tradition, at least promise me you'll make these mushrooms sometime during the holidays!
* This is a sponsored post, created in partnership with Minnesota Turkey.
Minnesota has much to be proud of when it comes to turkeys.
This time last year, our family was invited to a farm near Alexandria, Minnesota to meet the 2017 Presidential Turkey Flock. Yes, the same turkeys who travelled to the White House for the annual turkey pardoning tradition by our nation's president!
Did you know?
Minnesota ranks #1 in turkey production in the U.S., with 450 turkey farm families. Many of these farmers are 3rd, 4th, and even 5th generation turkey farmers.
Minnesota raises 42.5 million turkeys annually
For the Presidential Turkey Flock, turkeys are chosen each year from the home state of the chairman of the National Turkey Federation. And this year the turkeys are coming from South Dakota, my home state! The presentation will mark the 71st anniversary of a tradition that has continued through twelve successive administrations. (Look for links at the end of the post, to follow along.)
How to pick portobello mushrooms
When making stuffed portobello mushroom caps, I always look for mushrooms that are large, dry, and fresh looking. If they have a funky odor, shriveled or bruised appearance, or are even slightly slimy in texture, I take a pass. 
This recipe calls for eight large portobello mushrooms. The ones shown in my photos are 4-1/2″ to 5″ in diameter. I know that seems rather big, but they will shrink significantly once they're cooked. The caps and the gills are nicely firm. And they have deep wells, perfect for cupping that turkey and wild rice mixture. 
How to clean portobello mushrooms
I like to use a just-barely-damp paper towel to wipe each mushroom, one at a time, to remove any dirt. Some insist that you lightly rinse the mushrooms with cool water and then pat dry with paper towels. Just be careful to not completely soak them, or they will absorb water.  
If you're interested, much of this recipe can be prepared the day before serving. I've included my make-ahead tips in the recipe card.
Wild rice takes a good while to cook, to fully split open and reveal its chewy interiors. So this is definitely a piece that can be done ahead of time. 
For more wild rice recipes (yes, I love them!!), be sure to check out:
Turkey gets all the glory this time of year. But our family really does enjoy it all year 'round. Did you happen to see when we smoked a whole turkey last month? A deeply smoky, juicy bird is pure awesomeness, one of our most anticipated meals.
This stuffed mushroom recipe would be absolutely splendid with some smoked turkey. If you have some, definitely use it.
Otherwise I've included a very simple recipe for cooking a juicy, bone-in turkey breast. Which, by the way, is another portion of the recipe that could be made ahead of time. 
Simply cut up the turkey and fold it into the creamy, herby wild rice mixture. You won't believe how wonderful this tastes, and I'm positive you'll be tempted to eat this straight from the skillet!
How to cook stuffed portobello mushrooms
Mushrooms have a high water content. So it's important to pre-cook the mushroom caps prior to stuffing them. This time in the oven will also help to cook the mushrooms sufficiently (because they ARE big!) and to intensify that wonderful mushroom flavor. 
Once the moisture is removed, stuff the mushroom caps with the turkey and wild rice mixture. Pack the mixture in firmly, making sure it gets under the mushroom's outer rims. And then mound it up, nice and tall, over the top. And when you think you can't possibly add any more, just add a little bit more. Ha!
Stuffed Portobello Mushrooms
This is one of the prettiest stuffed portobello mushroom recipes you'll ever find. I adore both the look and flavor of those bright and tangy pops of ruby red pomegranate seeds. They contrast so very well with the earthy flavor and creaminess of the rest of the dish. 
My favorite way to serve these turkey wild rice stuffed portobello mushrooms is with a fresh green salad. Sprinkle some of your favorite chopped nuts over the top and add a few slices of fresh apple or pear. Then drizzle a tangy vinaigrette over it all.
A few vinaigrette suggestions: this Herby Lemon Vinaigrette, the ginger lime vinaigrette from my chopped ramen salad, or the balsamic vinaigrette from this caprese pasta salad. 
Enjoy!
Ingredients
for the portobello mushrooms:
8 large portobello mushrooms (mine are 4.5″ to 5″ in diameter), stems removed and saved, gills scraped out and discarded
olive oil
kosher salt
freshly ground black pepper
for the wild rice:
4 c. low sodium chicken broth
1 c. whole (not cracked) Minnesota wild rice
for the turkey:
2 T. unsalted butter, softened
1/4 tsp. garlic powder
1/2 tsp. poultry seasoning (or your favorite seasoning mix)
kosher salt
freshly ground black pepper
1 (3 to 4-pound) bone-in turkey breast with skin
for the turkey wild rice mixture:
1 T. olive oil
5 T. unsalted butter, divided
1 c. diced yellow onion
3 large cloves garlic, minced
reserved mushroom stems, chopped small
1/3 c. heavy cream
2 T. soy sauce
1/2 tsp. kosher salt
1/4 tsp. freshly ground black pepper
2 T. minced fresh parsley
1 T. minced fresh thyme, plus a bit more for sprinkling over the tops
1 T. minced fresh rosemary, plus a bit more for sprinkling over the tops
fresh pomegranate seeds
Instructions
for the portobello mushrooms – Place oven rack in center position and preheat oven to 400° F. Brush the bottom of a large rimmed sheet pan lightly with olive oil. Place the portobello mushrooms, stem side up, on the sheet pan. Brush tops lightly with olive oil. Sprinkle fairly generously with salt and pepper. Roast for 20 minutes, or until tender. Remove from oven and let cool a bit. Then carefully drain and discard any moisture from the mushroom caps. Lightly dab the mushroom caps with a paper towel to remove any remaining moisture. Set mushroom caps aside.
for the wild rice – While mushrooms are roasting, heat a medium to large sauce pan over high heat. Add chicken broth and bring to a boil. Stir in wild rice. Turn heat down to low/medium-low, cover, and simmer until wild rice is split open and curled. This should take right around 1 hour. If you see a good amount of wild rice still not split open, simmer for another 15 minutes. Remove from heat and drain any excess liquid. Fluff with a fork and set aside.
for the turkey – (If you have 2 cups chopped leftover turkey to use instead, then skip this step.) Preheat oven to 350° F. In a small bowl, combine butter, garlic powder, and poultry seasoning. Place turkey breast, skin side up, on a small rimmed sheet pan. Loosen skin with your fingers and rub the butter mixture over the turkey breast and underneath the skin. Sprinkle all over with salt and pepper. Tent turkey loosely with foil. Roast until the juices run clear and an instant-read thermometer inserted into the thickest part of the breast, without touching bone, reads 165° F. For this size turkey breast, this should take about 1 hour, possibly a bit more. Remove turkey from oven and let rest. Once it has cooled a bit, cut the meat from the bone. Reserve 2 cups of turkey meat cut into 1/4″ to 1/2″ sized pieces for this recipe. Save the rest for another use.
for the turkey wild rice mixture – In a very large skillet with tall sides, over medium to medium-high heat, heat olive oil and 1 tablespoon of the butter. Stir in onion and cook for 2 minutes. Add garlic and chopped mushroom stems, stirring to combine. Cook, stirring regularly, until onions and mushrooms have completely softened, about 6 to 8 minutes. Then add remaining 4 tablespoons of butter, cream, soy sauce, salt and black pepper. Stir to combine and then cook for 5 minutes, stirring periodically. Stir in parsley, thyme, and rosemary. Remove skillet from heat.
to assemble – Increase oven temperature to 400° F. Place a baking rack inside the same large rimmed sheet pan. If you don't have a rack that fits, no worries, just go without. Set roasted mushroom caps, stem side up, on the rack. Fill each mushroom cap with turkey wild rice mixture. Pack the mixture in firmly, making sure it gets under the mushroom's outer rims. And then mound it up generously over the top. Place rimmed sheet pan in oven and bake for about 10 to 15 minutes, or until heated through. Serve immediately, with additional thyme and rosemary sprinkled over the top, plus pomegranate seeds.
Notes
MAKE-AHEAD TIPS
To partially prepare this recipe the day prior to serving:
Clean up the portobello mushrooms. Remove the stems, chop them up, and store in a covered container in the refrigerator. Scrape out the gills and discard. Store cleaned mushroom caps in a covered container in the refrigerator.
Cook the wild rice and store in a covered container in the refrigerator.
Cook the bone-in turkey breast. Remove meat from the bone and cut it into 1/4″ to 1/2″ sized pieces, enough for 2 cups for this recipe. Store in a covered container in the refrigerator.
from a farmgirl's dabbles
Nutrition Information:
Amount Per Serving: Calories: 606
For more information about the Minnesota Turkey Growers Association, including recipes and nutritional information, visit their web site. Also find them on these social media channels: Facebook, Twitter, and Pinterest. Join in on the conversation using #ServeTurkey.
And follow along with this year's Presidential Turkey Flock on the National Turkey Federation's Facebook, Twitter, and Instagram accounts! 
This post is sponsored by our local Minnesota Turkey. All opinions are 100% my own. Thank you for supporting the brands that help make this site possible.
We participate in the Amazon Services LLC Associates Program, an affiliate advertising program designed to provide a means for us to earn fees by linking to Amazon.com and affiliated sites. See our disclosure policy for more info.